About Us
Quill and Palette Gift Shop came about as an idea for combining the artist's passions for painting and writing. Our philosophy that "Art is for Everyone Regardless of Economics or Circumstance" prompted the creation of this outlet to make art available to you.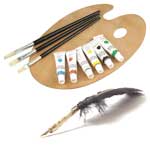 It is a work in progress with many new and exciting additions coming soon!
Nothing is as welcoming or treasured as a hand-written sentiment in the age of electronic communications. It is our hope that 'the personal touch' is never lost and that the love of art continues to nourish our spirits and hearts.
We welcome your comments and suggestions as we move forward in offering you the opportunity to share our love of art and the written word with those you care about.